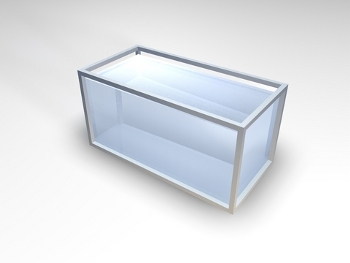 The first critical step to enjoying the hobby of tropical fish-keeping is to find and buy the right fish tank for you, the fish you want to keep, and your home. Here you'll find some advice on aquarium selection and links to online resources with wide selections of aquarium tanks at competitive prices.
With so many aquarium filters to choose from, it can be confusing to the new aquarium owner. There are several factors to consider, including the tank size, type and number of fish and which media type you wish to use. Here are some of the most popular sizes and styles:
5-gallon starter tank. These used to be glass tanks with metal rims. Now they are plastic. Very easy to set up, since they come in kits included hood, light, and filter. Good for keeping a crayfish, beta fish, goldfish, or a few small tropical fish.
10-gallon. By far the most popular tank and the best choice for the beginner. More room than the limited 5-gallon, but still small and easy to manage.
20-gallon long. Double the capacity of the 10-gallon and quite adequate for a nice aquarium or terrarium. Perfect for turtles, too.
29-gallon. Good move-up tank for the 10-gallon tank owner getting serious about the hobby or desiring to house more fish with greater variety.
40-gallon. Similar to the 29-gallon but longer. When full weighs over 300 pounds. More work to clean.
55-gallon. This was the biggest off-the-shelf "big" aquarium sold when I was a kid. Great for large fish like Arawanas or Oscars.
92-gallon corner. Almost double the capacity of the 55-gallon but takes less space because the front is bowed out and the back is a 90-degree angle so the tank fits in a room corner. This is my current big tank.
120-gallon. Similar in size and proportion to a coffin, it gives you a lot of room to work with but will dominate any room it is placed in.
Custom. Custom tanks can be built in any size and shape, with 200, 300, and 400 gallons being popular choices.
Where to Get Aquarium Tanks Online